Industrial Plumbing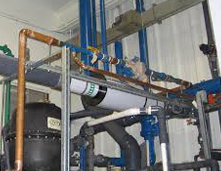 Industrial plumbingIndustrial Plumbing: Parnami Pump has a specialised professionals for all areas of the Industrial Plumbing. Working on large scale factory or warehouse job, our team is dedicated and able to complete an efficient and quality job. Parnami Pump is experienced on all levels of work related to Industrial Plumbing Services.  is a core competency of Parnami Pump. We offer the best value with the cheapest plumbing service around industries. We offer full turn-key industrial plumbing services including the design and installation of all interior plumbing systems, sewers and drain and water piping, fixtures, finishes and related equipment for specific building projects of only big size only Parnami Pump are acknowledged as one of the most reputed Industrial Plumbing Contractors like Water Pipeline &  Gas Pipeline Contractors .We undertake contracts for the complete piping work of compressed air as TURN KEY for distributing and circulating compressed air/gas etc.Parnami Pump works for all Industrial ,Group housing Societies ,townships, and Govt. departments..
We strictly adhere to industrial safety and building code standards on all industrial plumbing projects. Parnami Pump employes the best and most experienced certified plumbing professionals around and we will serve you from the design phase all the way through to installation and subsequent maintenance.
We have a team of highly skilled personnel provide innovative industrial plumbing and pipeline solutions tailored to your specific needs, including plumbing design for water, sanitation and drainage, portable water lines, cooling modules and water lines, hot tapping, torpedo pipe cleaning, poly pipe welding, and backflow prevention.
Why choose Parnami Pumps for your industrial plumbing and maintenance needs?
We offer Specialised staff for every service.
Emergency assistance anytime.
Preventative and Scheduled Maintenance
Emergency Service, Fault Finding & Repairs
Installations & Project Management
Plumbing Design Water, Sanitary and Drainage
Back flow Prevention
Green Solutions & Water Harvesting
Plumbing Glossary
Like every industry, the plumbing industry has its own language & definitions. The terminologies can make you select or install plumbing easily. We have compiled an alphabetical list of the industrial plumbing terms that you will find helpful for your Plumbing Glossary. We hope you will find this information useful as you browse Parnami Pump glossary.
Acrylic- A glassy, thermoplastic material that is vacuum-formed to cast and mold shapes that form the surface of fiberglass bathtubs, whirlpools, shower bases, and shower stalls.
Basket strainer - Basket shaped strainer with holes allowing water to drain while catching food or other solids. Can also be closed to fill the sink with water.
Check valve- A type of backflow preventer installed in a pipe that allows water to flow through it in only one direction.
Coupling-  Straight, sleeve-like fitting with female connections at both ends.
CPVC -  Chlorinated poly-vinyl chloride pipe, a type of plastic. CPVC can be used in both hot and cold potable water piping.
Diverter -  Valves which have a single inlet and direct water to one of two outlets. Diverters are used with hand showers, shower risers, tub & shower combinations, and kitchen faucet sprayers.
Elbow-  An angled fitting that alters the direction of the water line.
Hose bibb -  An outdoor faucet with hose threads on the spout. Also commonly used to supply washing machines and wash basins.
Inlet -  An opening providing a means of entrance or intake.
O-ring -  Round rubber washer or gasket that is compressed to create a watertight seal, typically in a compression fitting.
PVD (Physical Vapor Deposition)- A very durable titanium or zirconium coating that resists tarnish, scratches, and corrosion. It is used mostly to protect faucets with a brass finish.
Riser-  An upright or vertical pipe that feeds water to a fixture such as a showerhead.
Shutoff valve-  The valve that allows water supply to be cut off to one fixture without affecting the water supply to the entire house or building. Common for use with sinks and toilets.
Tee-  Its a T-shaped fitting with three openings.
Valve -  A device that regulates water flow.